Deepen Your Yoga
300 Hour Online Yoga Teacher Training
Program Begins October 2020
What is Yoga?
Yoga is way more than exercise. It's a way of life and navigating through the world. This year-long virtual program is designed to take students deep into the study of Yoga as a practical philosophy and a way of being.
At the Yoga Well Institute, we study and teach the lineage of Viniyoga as passed down through Śrī T. Krishnamacharya & Mr. TKV Deśikachar. In Sanskrit, Viniyoga means application; it's the understanding that Yoga ought to be tailored to the individual, instead of changing the individual to Yoga.
Not Like Other Teacher Trainings
Many students report that their Yoga Teacher Training program made them realize how little they knew, rather than instilling confidence in what they did know. After your 200 Hour Yoga Teacher Certification, were you left with inquiries like these?
What is the practical point of practice? Can someone explain Yoga philosophy to me in a clear, straightforward and

applicable

way? 

What is the relationship between the nuts and bolts of how I'm practicing Yoga and the way my life works? Shouldn't there be a clearer relationship between what I do in my

practice

and what I do in my

life

? 

Why is one studio's

haṭha

yoga class

so

different from what is taught in another studio? What is, really, truly Yoga?
This program provides practical answers to these (and many other Yoga) questions; answers that are immediately applicable in your day-to-day experience. This won't just Deepen Your Yoga, it will allow Yoga to become a foundational, guiding principle in your life. We'll present the background of the various styles of yoga, and illuminate how they are intertwined and related. When you're finished with this program, you'll have confidence and a deeper level of understanding about not only yoga, but yourself.
Program Summary
This ​12-month online program for Yoga practitioners to establish Yoga in your life in a deep and meaningful way.
Includes:
12 Monthly intensives
51 Weekly sessions
52+ Guided weekly meditations
Assignments focused on experiential (vs informational) learning
Personalized practices
Recommended reading, articles & assignments
Access to a student portal with recordings of all sessions
Private online community of fellow students
Led by teachers with decades of experience
Connection with a personal one-on-one Yoga Mentor
Now is the Time to Go Deep
The world is in the midst of many seemingly cataclysmic events which may stir up fear, doubt, uncertainty, and even trauma. You can't control what happens in the world, but you can learn to navigate through life with grace and authenticity. This is the real power of Yoga, the power to fully and powerfully be you in your life. 
This program is a year-long immersion with personal guidance (minimum of 10 hours of one-to-one instruction) that will help you establish Yoga in your life in a deep and meaningful way.
Right now, many people are craving a quick fix. You won't find that here. This is a program of substance and depth that will allow you to discover yourself, and make positive changes that will actually last. At least, that's what our students have been saying for years.
This is a year-long program designed to deepen every aspect of your Yoga. The primary focus will be on you – your understanding, experience, and application – of the core principles of Yoga. 
You will learn the context and goals of Yoga, and how its principles reflect them, through experiential and informational sessions.
Curriculum Highlights
Fully grasp how Yoga is fundamentally a science of experience.
Receive personalized practices for your continued growth in your personal practice.
Assignments including curated articles and books, guiding you through the foundations of Viniyoga as a lineage.
Understand how all the various elements of Yoga fit together in a single seamless teaching.
Explore many different definitions of Yoga, and understand how they fit together.
Access your personal authenticity through a guided exploration of your lens on the world: develop a personal relationship with how to apply Yoga's explanations about why we suffer, what our relationship with the world is and what we do about it.
Experience how the techniques of the different tools of Yoga practice (body, breath, mind and voice) overlap and interrelate with each other, this creates the foundation for how to utilize different tools in a coherent manner.
Understand how practices are intentionally created experiences and how to design them.
Interrupt old patterning that no longer serves you, and experience how to solidly establish new patterns that do serve you.
Understand the context for personal Yoga practice as explained in Patañjali's Yogasūtra, the Haṭha Yoga Pradīpika and the Bhagavad Gītā.
Appreciate the stages of a Yoga practice, and how the arrangement of experiences in these stages can lead to different physical, emotional, mental, energetic, and behavioral results
Understand Yoga as a science of perception: gain clarity about creating experiences which shape our lives and address the relationship between ourselves and those experiences
Appreciate the context of Yoga therapy: how specifically designed experiences create therapeutic results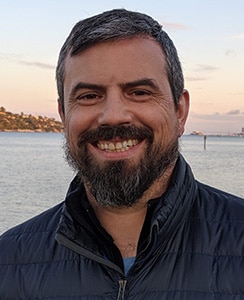 Chase Bossart, M.A., C-IAYT, E-RYT 500, YACEP
Executive Director of the Yoga Well Institute and Primary Teacher for this Program, Chase has been studying Yoga, Sanskrit, eastern philosophy and religion for nearly 30 years. Chase was a private student of Mr. Desikachar, who was his mentor and teacher for 20+ years. During that time, he spent a total of four and a half years in Chennai studying with him, his family and his senior teachers. He also had the opportunity to serve as a teacher at the Krishnamacharya Yoga Mandiram. His depth of knowledge on yoga and meditation are shared through practical, humorous anecdotes that translate to everyday life.
Whitney Arvin, E-RYT 500
Whitney has been consistently practicing, teaching, and studying yoga since 2008. After personally experiencing continuous benefits from yoga (including complete relief from debilitating back pain and the stress of being a single mother) it became clear that she must keep doing yoga, and share this with others who may be interested. As a result she has since committed to the practice and study of yoga and is expecting to apply for her C-IAYT credentials in 2021.
Jenny Orona, C-IAYT, E-RYT 500 
JennyO turned to yoga when an accident caused a debilitating spinal injury. Her yoga practice gave her relief from physical pain, as well as mental and emotional clarity.  Her teaching comes from this in-depth understanding and she has a unique ability to find a practice for every "body."  A Yoga Therapist at Seton Shoal Creek, she brings the healing path of yoga to clients recovering from trauma, substance abuse, and mental illness. 
Mary Stewart, C-IAYT, E-RYT 500
Mary strives to continue to deepen her experience and strives each day to apply the principles of Yoga in her own life. Even after 12 years of study with her Mentor, she considers herself to be at the very tip of a lifelong study of Yoga. She is dedicated to the creation of a profoundly peaceful, healthy, and spiritually awakened community, and to empowering its members to discover the sacred vitality and wholeness already within them.
Melissa Shah, B.A., MPH, RYT-500
Melissa was born and raised in NYC, and entered the path of yoga at the age of 12, thanks to her mother as well as her first teachers, Sudhir and Niru Parikh, through the Vivekenanda Kendra lineage. In addition to a passion for yoga therapy, Melissa also works to dismantle disparities in the health and wellness industry, including educating western yoga communities on cultural appropriation and empowering fellow BIPOC students and teachers to reclaim their space.
This program is specifically designed for serious Yoga practitioners and teachers to go deeper into Yoga, understand its context, and see how the practice reflects deeper Yoga principles
This program is designed to help you go beyond doing, beyond teaching Yoga. It will help you to be Yoga.
If you already have your 200 Hour Yoga Teacher Certification and want to receive your 300 Hour Yoga Teacher Certification through Yoga Alliance, you may elect to complete additional hours to earn that certification. More information on certification is here.
Weekly 3 hour virtual classroom sessions
Monthly 6 hour virtual weekend intensives
10-30 hours of 1:1 time with your personal Mentor
Weekly 30-minute Wednesday Morning Meditations
3 months of The Application of Meditation, a discussion group that meets twice a month for 45 minutes, included at the end of your Program.
Access to our Student Portal for easy review of handouts, assignments and playback of all classes and intensives
Instruction by seasoned teachers, your primary teacher, Chase Bossart has been studying Viniyoga for 20+ years, much of that directly with Mr. TKV Desikachar
Access to a private, online community to connect with your cohort between classes
Guidance on 15 hours of Practicum (if seeking certification)
Support navigating Practicum and submitting for Certification
This online program begins October 7th, 2020.
You will meet with your cohort and teachers one evening a week, and one Saturday a month.
Weekly classes on Wednesday nights from 4-7pm PT / 7-10pm ET

Oct 7, 2020 through Sept 29, 2021

Monthly intensives, one Saturday a month from 7am-1pm PT / 10am-4pm ET

2020 Dates: Oct 24, Nov 21, Dec 12
2021 Dates: Jan 9, Feb 6, Mar 6, Apr 17, May 15, Jun 12, Jul 24, Aug 22, Sept 25

Wednesday Morning Meditations weekly from 7-7:30am PT / 10-10:30am ET

Every single Wednesday, even holidays.

Monthly, one-to-one meetings with your personal Mentor

Scheduled at your discretion
300 Hour Yoga Teacher Certification
If you already have your 200 Hour Yoga Teacher Certification, you may elect to apply for 300 Hour Yoga Teacher Certification through Yoga Alliance once you complete this Program and additional Practicum hours.
To obtain certification, you will need to complete a total of 30 hours with your Mentor and 15 hours of Practicum, in addition to the 270 hours covered by this 12 month program. These additional hours involve extensive practical experience designing practices and receiving guidance and feedback on them. There will be no additional cost for Practicum beyond what you pay your Mentor for the additional sessions.
You will have the 3-6 months following the end of this program to complete your additional 30 hours, at which point we will issue you a certificate that you can then use to apply for your 300 Hour Yoga Teacher Certification through Yoga Alliance. Don't worry, we'll walk you through it.
This program does not currently qualify to provide practitioners with a 200 Hour Yoga Teacher Certification.
This program has three types of investments.
Time
You will invest about 270 hours of your time in this program over the next 12 months. 300 hours if you elect to seek certification.
While all classes will be recorded and available on demand for replay and review, live participation is recommended to get the most out of this program.
We encourage you to review the class schedule prior to submitting an application.
Financial
To help make the program more affordable in these uncertain times, we've stretched the payments out over 13 months. If you make your first payment by September 1, 2020, you will receive 5% off on all payments. Or pay in full before the program starts and receive a 15% discount.
Enroll before Sept 1 : $284/month for 13 months
Enroll after Sept 1st :  $299/month for 13 months
Pay in full and receive 15% off making it $3,304 total
Personal Practice
To participate in this program you must have an individual Viniyoga Mentor. If you don't have one we will help you get connected with one. Learn more about Mentorship here.
Your relationship with your Mentor is separate from your relationship with the Yoga Well Institute. On average, Mentors charge around $100/hr. Plan for at least 10 sessions throughout this program, or 30 if you're seeking certification.
Beyond the additional investment with your Mentor, there is no extra cost to seek certification at the end of the Program.
Get Started
To ensure we create a quality community around this program, you must apply to join us.
Click below to complete the application form (it will take you about 30 minutes). We'll follow up as quickly as possible to let you know if you're accepted, as well as next steps to completing the enrollment process.
This is a big commitment. It's natural to have questions and concerns as you consider if this program is the right fit for you.
The best way to get your questions answered is to schedule a call with our Admissions Staff.
Our Admissions Staff is committed to working with you to make the right next steps for your Yoga journey. We are happy to talk with you about your situation and provide the answers and information you need.