Join us for Picking the Focus of Meditation
Meditation is about the ability to hold sustained attention. You've likely visualized warm light, calm cool waters, peaceful scenes, and more while meditating. It's the charge of each of these objects that ultimately unlocks the versatility of meditation. 
Want to learn how to select a focus of meditation based on your clients' unique needs?
Join us for Picking the Focus of Meditation, a two hour workshop for Yoga teachers. 
Workshop Details
Type: Pre-Recorded event
Teacher: Chase Bossart
Cost: $67
Yoga Teachers of all levels & experience are welcome.
Workshop recording immediately available in the Student Portal after purchase.
You will leave with an understanding of:
How the focus of meditation creates the path of the meditation and support its purpose 

The powerful way that experiences influence our mind and body

The vast and varied healing applications of meditation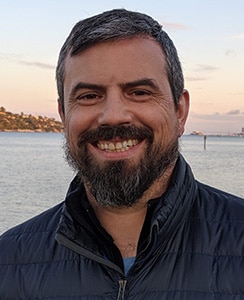 Executive Director of the Yoga Well Institute, Chase has been studying Yoga, Sanskrit, eastern philosophy and religion for nearly 30 years.
In 1991, as part of a study abroad program in Chennai, India, Chase took a semester-long course on Yoga Theory with Mr. TKV Desikachar that essentially set the direction for the rest of his life. He became a private student of Mr. Desikachar, who was his mentor and teacher for 20+ years.